Supported MC Versions:[1.8 - 1.16+]Req. Server Software:Spigot 1.14.4 or PaperSpigot 1.14.4.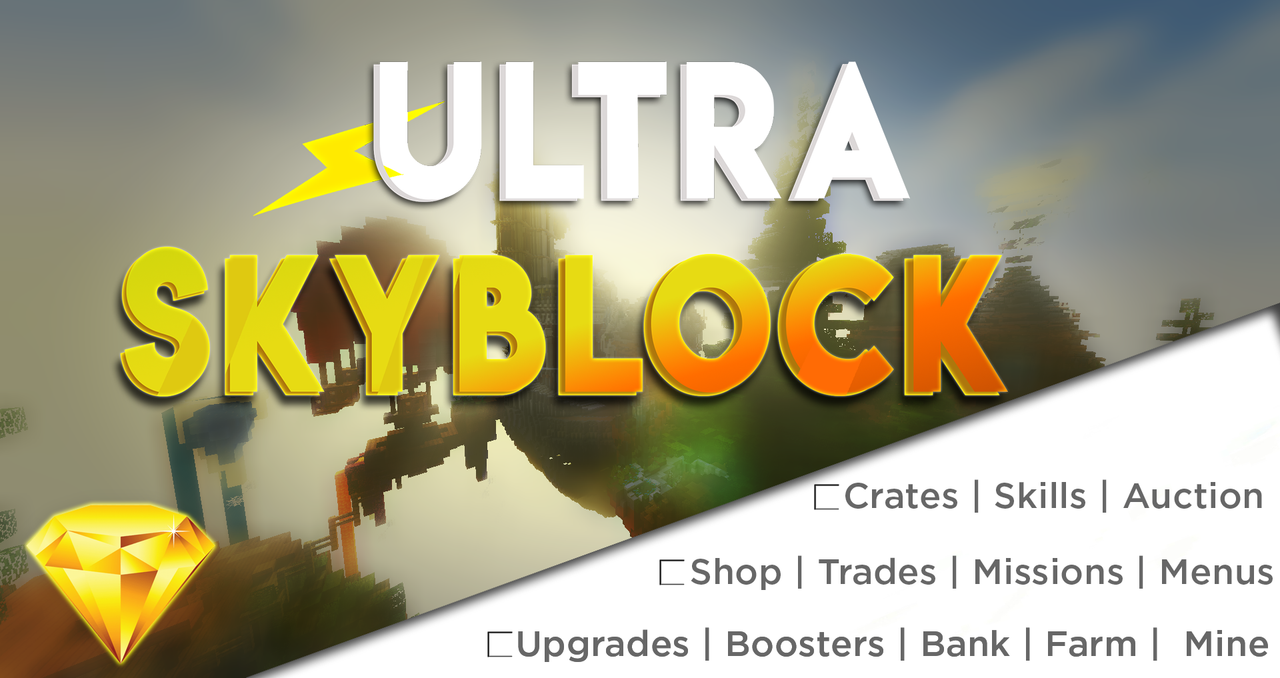 • Special skyblock setup with unique and special features which will return to players addicted to your server•

Minecraft Versions 1.8 - 1.16
• You don't need any premium plugins!
•
Daily Rewards with
Npc
and
Hologram
to Claim!
•
Custom Plugins (Skills and Farming Style like Hypixel)
•
Mine-Zone where players will able to get Ores and Upgrading their skills
•
+8
Ranks with Permissions
configured
•
Configured Warps, with Npc's included
•
[NEW]
Skills Missions player will able to do missions of Farming, Mining, Enchanting and more!
•
Island Missions this is different of skills missions in this players will gets Crystals and Money!
•
Skills
players
will able to get rewards and boosters ,doing things like Mining, Farming, Enchanting, Brewing items and more!
•
Configured
Island Boosters
players will able to get Boosters like Boost their spawns, Boost your Crops and much more!
•
[NEW]
Island Upgrades the islands can be upgraded by players (Size, Members, Warp, etc)
•
Lobby Configured
the spawn was builded by us and is fully configurated (Players can't break, place, etc)
•
Crates Configured with
rewards
for each rank
•
[UNIQUE]
Farm Zone like hypixel where crops automatically regenerate
•
+3 Islands Fully Configurated (
Basic, Desert and Lucky
)
•
Config
Island Borders
•
Vote System
•
Rules Area
•
Zone with Examples of
Cobblestone Generators
•
Kits per rank, players can see
kits
with previewkit
•
Awesome
Scoreboard
•
Area of War -
Pvp Zone
AND MORE,MORE AWESOME FEATURES...
• Main GUI
This is the principal menu, and contains things to help new users.
Spoiler: Main Menu
• Island GUI
A Menu that contains all important settings of Island (Upgrades, Biomes, Members, Settings, etc)
Spoiler: Island Panel
• Warps GUI
A Menu with all places availables in the server, Players can teleport in one click!
Spoiler: Warps GUI
• Lobby
A great lobby where users can get a lot of fun, touring their great space!
Spoiler: Lobby
• Lobby
3 Different Islands with Thematics very Funny! (
Basic, Desert and Lucky
)
Spoiler: Islands
• Auction
Place where players can sell their items and other players can buy them
Spoiler: Auction
• Crates
Customized crates with incredible rewards with custom Permissions! (There is more than +4 Types of Crates)
Spoiler: Crates
• Missions
A LOT of Missions! Players will have many hours of fun and they will have a good time.
Spoiler: Missions
• PvP Zone
A giant place where the most epic battles of your server will be fought!
Spoiler: PvP
• Kits
More than +5 Kits with configurated Rewards and Only for Players with Ranks! (Permissions are configurated)
Spoiler: Kits
• Daily Rewards
Rewards claimables each 24 Hours with custom rewards!
Spoiler: Daily Rewards
• Farm
Area where player can upgrade their Skills and complete their Missions
Spoiler: Farm
• Mine
Here players will able to get Mining XP and Ores there is more than +7 Auto-Mine Blocks to Mine!
Spoiler: Mining
• Shop
Players will able to purchase and sell items for increase their gaming experience.
Spoiler: Shop
• Skills
Unique Feature with more than +7 unlockable skills with a epic graphic interface!.
Spoiler: Skills
• Mana System
Unique and epic feature same as hypixel's intelligence system.
Spoiler: Mana
• Bank
Players can Save your Money, Crystals or Experience for don't lose it.
Spoiler: Bank
•
You will not be able to redistribute the plugin.
•
You can not ask for support in the rewiews section of the plugin.
•
You cannot upload the plugin to another forum or page, without the developer's permission.
•
If you don't respect the rules you will be banned.
•
All purchases are final and no refunds will be given.
•
Chargebacks/disputes will result in losing access to the plugin and future updates of it.